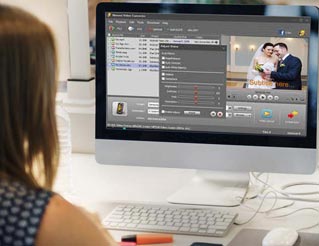 Captioning / Subtitling
Closed Captioning is a necessity by law for video broadcasters, in order to make video content accessible to the deaf and the blind community. Intelliscript provides cost effective offline captioning services, with quick turn-around times. For online video producers, educational videos or online media, closed captions come in handy because of the potential of large number of viewers. More importantly for promotional and advertising videos that carry an important message, skipping even small audio portions can significantly impact viewer's comprehension of the videos. At Intelliscript, we give a lot of importance to the deaf community, and so we write subtitles that enhances the viewing experience for those who may not have access to sound.
We not only preach but practice confidentiality and so our preferred method of file delivery is via our secure FTP. However, we are accommodative and flexible to the needs of our customers and can accept data transfer through tools such as YouSendIt, WeTransfer, Dropbox or G-Drive.
Many broadcasters or video producers have their own specifications for closed captioning, but where a service provider has not provided guidelines or a template, Intelliscript's standard templates can be used. Upon receipt of your video file, our transcription team will get to work, adding accurate timestamps to the video. Our experienced editors will also proofread the script to ensure accurate use of punctuation, spelling, and grammar. Following this, closed caption style and placement will be formatted, and the finished captions embedded in the video before being sent back.
Subtitling is defined as the process of adding verbatim text to any audio-visual medium (film, television, promotional & corporate videos) to convey the message that is being spoken.
There is a great demand for Online Subtitle Services these days. There is a massive shift in viewership preference from the traditional TV channels, cable or satellite services to watching one's favorite television programs through internet-enabled TVs, Firesticks, tablets or even smartphones. Online subtitles keep viewers engaged in the video content. There is currently an unprecedented need for video content to come equipped with subtitles, keeping in mind the sensory challenged communities, other language viewers, etc. Online subtitles are used for various reasons which include:
Accessibility of content to the hearing-impaired
Translated subtitles for the foreign viewers
Facilitates viewing of content in public or noisy environments
SEO (search engine optimization) opportunities
Facilitates better understanding & learning in case of videos that are otherwise hard to follow
In terms of the end-users of subtitles, the audience is huge and includes viewers with hearing impairment, foreign speakers, and also those viewing content in public, within noisy environments and more…
As an experienced transcription provider and subtitles creator, we supply everything from transcription (done by experienced transcribers) of the original video, time-coding, SRT creation, embedding, and translation of the transcribed text (currently, we undertake English and Spanish transcription and translation).
We provide subtitles for the following:
Television programs
Educational videos (YouTube, Vimeo, etc.)
Films (Documentary, Feature)
Marketing films
Our Pricing ranges anywhere between $8 and $10 a minute depending on the extent of services requested.